List of products by brand LuminAID - créatrices de lampes solaires gonflables et durables
2R Aventure offers for sale the inflatable solar, waterproof, folding and ultra light ecological pillow or cube lamp developped by LuminAID 
LuminAID, aid by lightening, how to combine a playful design and innovation? How to enlighten (in every meaning) population suffering from disaster?
That's the first questions Anna and Andrea tried to solve when Haïti was suffering from a major earthquake, destroying houses and energy chains and other major infrastructures.
They then developed a small inflatable and watertight pillow for enlighten, illuminate a tent, or a place, easy to hang, folding or unfolding thanks to a small inflatable valve and a small breaths.
The LED system ensures an economic way of lighting, with a large autonomy (to 30 hours), with no heat, and therefore no risk for the diffusing (RohS) efficient surface (adapted for air and as well as on the water). The inflation is playful and make the transportation very practical (less than 3 cm thick).
The solar panel gives the autonomy in a green, ecological way and make the recharge in a few hours on a sunny light. Prototype is tested, validated and LuminAID was born. 
Today, the technology is distributed worldwide thanks to partnership with Doctors without borders or the UN. The lighting pillow has given light to Nepalese or schools in Africa.
With those strong experiences, Anna and Andrea followed the concept with multicolor cube. Same technology than for the lighting pillow, the spectra cube from LuminAID enlightens easily thanks to solar energy.
The shape is different, and a small button makes you select the color (red, orange, yellow, green, bleu…)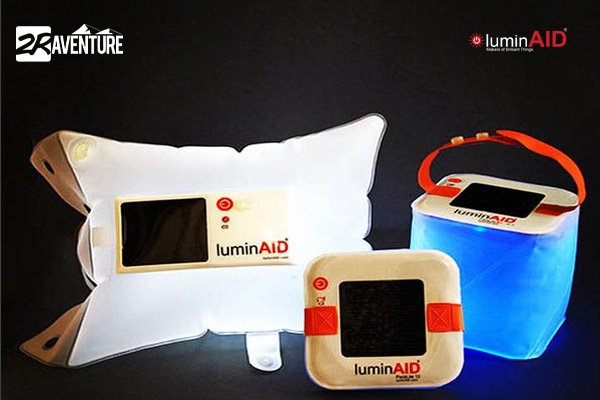 The pillow or the cube follow you everywhere, easy to hang, to a backpack to trek all day and enjoy a nice enlightened bivouac, to illuminate a star full night in a garden, a swimming pool, on a boat… To reassure a kid from his nightmares, to guide Santa on a Christmas night, or just to put on Santa socks to give a light guide… 
No products available yet
Stay tuned! More products will be shown here as they are added.